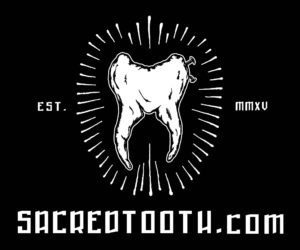 SACRED TOOTH is an apparel brand which deals with alternative culture lifestyle. It represents all the 'ordinary' people who act in an extraordinary way.
Their products are cleverly designed and crafted by hand, with the aid of modern technology and top quality materials. The art and design works are cleverly inspired by both new & old school eras, and cultural & subcultural movements, without any ideological or stylistic barriers.

Sacred Tooth was established in the city of Nicosia in 2015, as a collaboration project of the 'Lost Wear & Play' store owner and the artist 'AnexitiloN'.
Sacred Tooth is dedicated to those like-minded individuals who live their life with attitude and style.
---
www.sacredtooth.com
FB: sacredtooth
IG: Sacred Tooth Official
info@sacredtooth.com
tel:+357 99671853