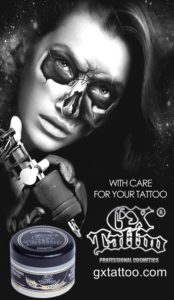 Sweet Angels LTD is a manufacturer of professional tattoo cosmetics under the brand GX Tattoo.
Their experience in the production of cosmetics dates back from 1994.
They test and develop specialized tattoo cosmetics since 2012.
After three years of tests in laboratories and in many tattoo studios across Europe and worldwide, they are now manufacturing the most needed cosmetics of the highest quality for professional use and for people who want to have a tattoo.
Their cosmetics contains mountain herb extracts and other natural plant extracts.
Thus, they can firmly state that their cosmetics comes from nature.
Due to the unique combination of natural ingredients, their cosmetics has quick and efficient effect for the proper and trouble-free healing of your skin after tattooing, piercing or permanent make-up.
Their spray products are unique and act exactly as they are intended to.
They work for all people in the world who have tattoos and who tattoo.
They work hard, with due quality and love for you! When using their products, you should know that this is health from nature you may afford. They hold all reserved rights for the brand GX Tattoo and the recipes for the production of tattoo cosmetics.